Denver Crime in the News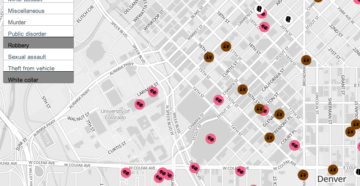 So how many crimes make it into Denver newspapers anyway?
Denver Crime in the News takes a look at exactly how many crimes are committed in Denver and how many of those crimes become the subject of Denver newspapers.
The sample period for the project is February and March of 2013. You can view the data geographically with the crime map, or to see details about what types of crimes make the news using the crime news fact sheet.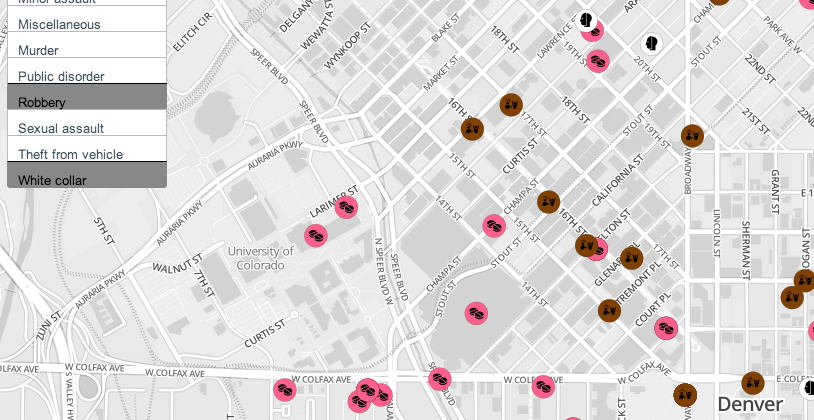 How to use the map
The Interactive Denver Crime Map takes an in-depth look at newspaper crime coverage in Denver County by comparing the number of crimes committed to the number of crimes reported by newspapers. On the map, toggle the different crimes on and off to discover what crimes were committed where, and which ones warranted news reports. The map begins with arson highlighted.
About the project
The Interactive Denver Crime Map was created as part of the course Making Networks at the University of Denver winter term 2013. The map was created with Tile Mill and Map Box, with crime icons modified from the Noun Project. Crime data was taken from Denver Open Data. The news stories were gathered using Yahoo Pipes, with news stories coming from the Denver Post, Aurora Sentinel, Our Arvada News, Westword, Our Centennial News, the University of Denver Clarion, the Metropolitan University of Denver's The Metropolitan, and the University of Colorado Denver's Advocate. Most of these newspapers do not garner entries, as many of their stories concern events outside Denver County and outside the scope of this project. However, they remain in the content pool in the event that a crime in Denver County becomes the topic of a news story.
Credits
Special thanks to Denver Open Data.
Special thanks to the Noun Project's open source icons.
Assault icon courtesy of Ezra Keddell and The Noun Project
Arson icon courtesy of The Noun Project
Auto theft icon courtesy of Okan Benn and The Noun Project
Burglary icon courtesy of Ben Gilman and The Noun Project
Drugs icon courtesy of Andrew Kelly and The Noun Project
Larceny icon courtesy of Proletkult Graphik and The Noun Project
Miscellaneous icon courtesy of Matt Crum and The Noun Project
Murder icon courtesy of Rhys Dezsery and The Noun Project
Public disorder icon courtesy of Oliver Guin and The Noun Project
Sexual Assault icon courtesy of Luis Prado and The Noun Project
Theft from vehicle icon courtesy of Charlene Chen and The Noun Project
White Collar icon courtesy of Luis Prado and The Noun Project
Newspaper icon courtesy of John Caserta and The Noun Project
---